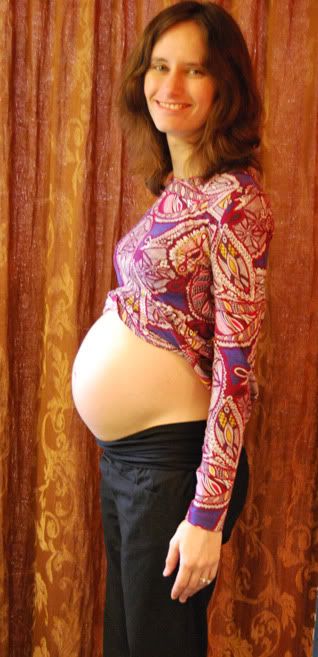 Yeah, I don't look much different from this angle than I did two weeks ago. I might even look smaller. I think that the two-dimensional photos really don't do my changes justice. Perhaps I should have been taking a few different angles each time, or even used video instead.
In any case, I'm feeling really dense in the belly these past couple of days so I think I'm about to see a growth spurt.
I think I'm getting the 3rd trimester down: Extra support for the belly while sleeping, check. Restroom visit every two hours or less, check. Bottle of tums in my purse for after nearly every meal, check. Less caffeine (since he seems more sensitive to it lately), check. Little changes in how I do things makes every move a little more comfortable.
More later about baby showers.