Many have asked me if we've picked colors or a theme for our baby's room. Yes, we have.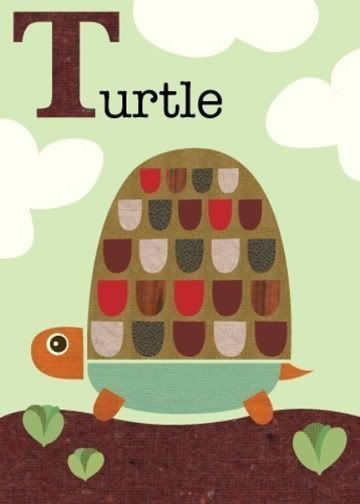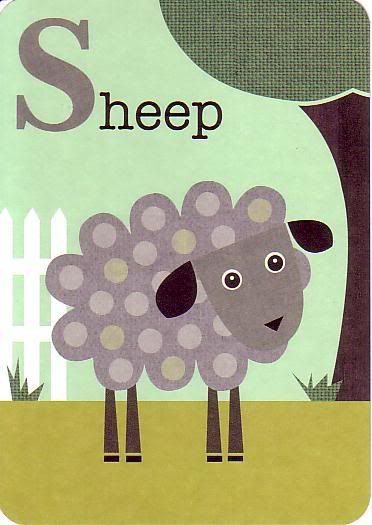 These alphabet cards are by the artist
Jenn Ski
. We adore her style. Our taste skews towards clean lines and mid-century modern looks, so her stuff is right up our alley. You may want to check out her
blog
, which links to all sorts of cool things.
We purchased her flash card set of the full alphabet, and we intend to hang them in the room. Ikea has a clothesline-style wire with clips that we'll probably go with. In the future, these cards could be easily taken down and replaced with new looks for the room. We can even use them as flash cards! They have fun facts about the animals on the back of each card.
We'll take our color cues from these cards. I like how they are a good replacement for traditional baby pastels - colorful yet not hard on the eyes. We haven't yet decided on a wall color, but we'll probably go rather neutral and let the cards stand out.
If you clicked the link to Jenn Ski, you'd see she has an Etsy store. Etsy is a website where people sell items that are handmade. There are thousands of crafty people out there with beautiful, one-of-a-kind alternatives to the usual stuff. Yes, we are going to register for the usual stuff at the usual stores, but I'm going to also set up a Favorite Sellers list on Etsy and allow everyone to see that. It won't be like a registry where I choose items for you, it'll be more like an ideas list or a style guide. That way, when it comes to the non-essentials like cute baby outfits, you can surprise us AND be sure that we'll like it. :) (Ok, I take it back, cute baby outfits ARE essential.)
Here's another example of an Etsy store I like.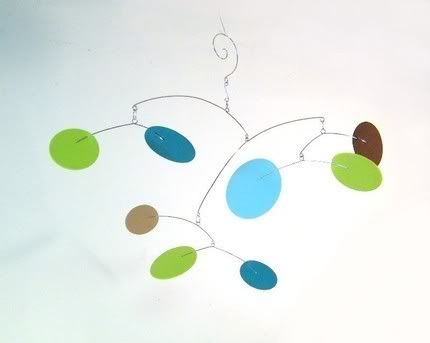 Wonderland Studio
makes mobiles. If you send them your color palette and size requirements they'll make them to order. The one above is just an example, they've got many different patterns and sizes. I love these. They're designed to look cool no matter if you're standing next to them or laying in the crib. They may not actually be Alexander Calder originals but they sure look close.
Speaking of registries, it looks like we're going to make our first foray into baby stores this weekend. At 5.5 months, it's time.